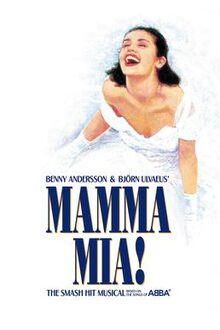 Mamma Mia! (originally promoted as Benny Andersson & Björn Ulvaeus' Mamma Mia!) is a musical, based on music from Swedish pop group ABBA. The idea for the play stems as far back as 1982 when British playwright Judy Craymer approached Benny Andersson and Björn Ulvaeus about a story involving several songs by ABBA. It was the song "The Winner Takes It All" that convinced her that the songs could be used theatrically. In 1997 Craymer began work on the upcoming musical, commissioning British playwright Catherine Johnson and director Phyllida Lloyd. The musical then opened on April 6, 1999 in London. The play is known for being the acting debut of Irish-born Siobhán McCarthy, who played the character Donna Sheridan.
The play's success in the West End prompted Craymer to bring it over to the United States, and it would first play in Canada with actress Louise Pitre as the Donna character. The play would later become one of the highest grossing shows to play on Broadway in New York, NY, running in ninth place. By 2015 the show had played a total of 5,773 performances and closed that autumn. The musical would later be adapted by 50 countries on at least 6 continents. It would later be revived on the Holywood Bowl, with Jennifer Nettles portraying Donna. The musical officially retired after running from the span of 17 years, with its last performance in St. Louis, Missouri with a total of more than 4,000 performances.
The play would later be adapted by Craymer, Johnson and Lloyd for the big screen with financial backing from Universal Pictures and producer Gary Goetzman. The movie would open on July 20, 2008 in both the UK and the US. Starring Meryl Streep, Pierce Brosnan, Amanda Seyfried, Colin Firth, Stellan Skarsgård, Dominic Cooper, Christine Baranski and Julie Walters. With a budget of $52 million, the movie managed to gross $615.7 million, and remains the highest grossing musical of Meryl Streep's film career. The on-going success of the film has inspired a sequel that will open in 2018, ten years after the original's premiere date.
Community content is available under
CC-BY-SA
unless otherwise noted.